After a week off from Bombs & Values, we are back to the good stuff as we dive into the betting board and DFS slate once again for the 2021 3M Open at TPC Twin Cities. The last installment of this article had the top of the board peppered at the John Deere Classic with charges from Jhonattan Vegas, Harold Varner III, and Adam Schenk on Sunday. Though not exactly the same set up this week, we do have yet another TPC birdie fest that puts a similar emphasis on Approach, Birdie-making, and Streaky Putting, so we should be able to go back to a similar model once again this week to find similar results. As is typically the case with birdie fests, the players at the bottom of the board should once again be viable this week, so let's dive in to the best DFS values and Betting bombs of the week!
DFS Values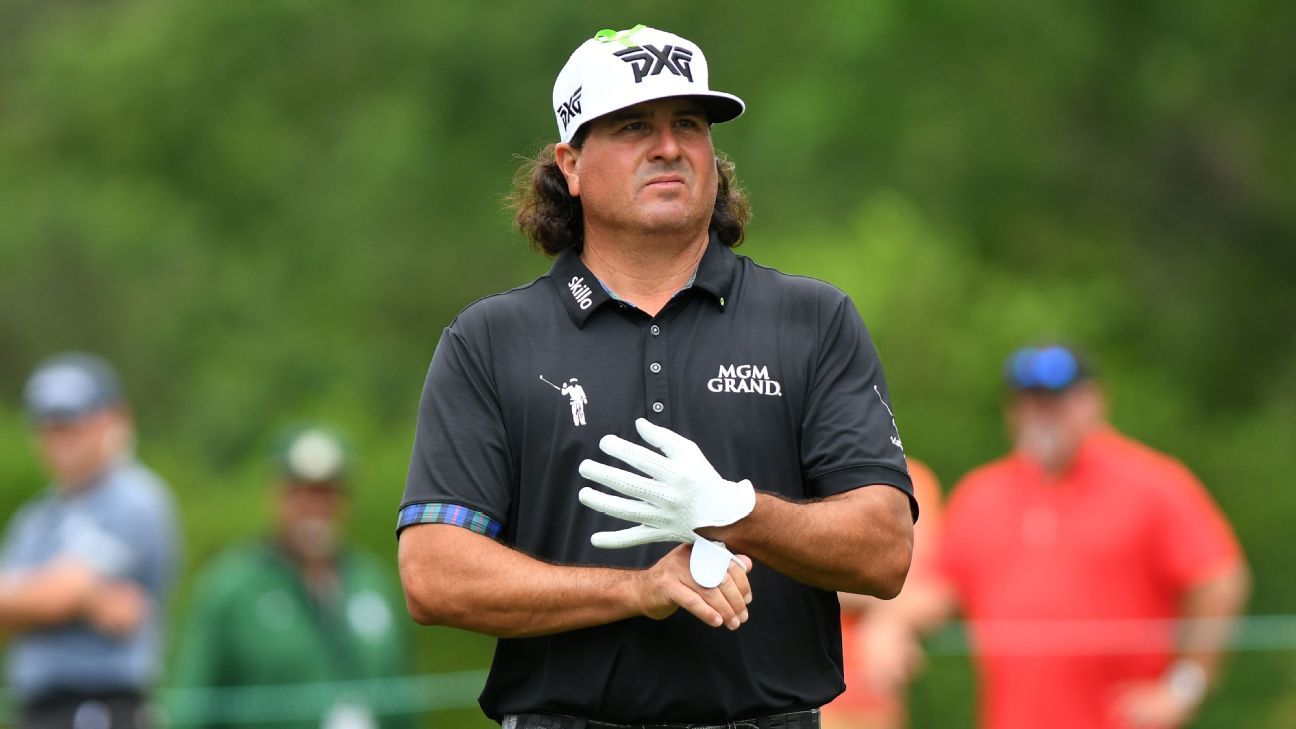 Pricing from Draft Kings
Pat Perez ($7,100)
I keep thinking Pat Perez is going to be more popular than he actually is, and so I've continued to over-think and fade him for no good reason despite me wanting to root for him and the models wanting me to throw my money at him.
Over the last 24 rounds, Perez ranks Top 25 in this field in SG: APP, GIRs Gained, Birdies or Better Gained, SG: P – TOT, and SG: P – Bent. For a second shot, birdie fest course, that's exactly the formula I want to hone in on for my player pool, and Perez joins Hank Lebioda ($7,900) as the only 2 players in the field who fit that criteria. In addition, he's also one of only 5 other players to rank inside to Top 30 in P4: 350-400 and P5: 550-600, the two hole ranges that have correlated most with success at TPC Twin Cities over the first two years the event has been contested.
Over his last 8 events, Perez has gained strokes on approach and putting 7 times. He also has two Top 15 finishes over his last 4 starts at the Palmetto Championship and Rocket Mortgage, one of the top comp courses to TPC Twin Cities. He's made the cut in both prior starts at the 3M Open, despite having yet to gain over one stroke putting, his usual strong suit, which suggests he comes in primed to improve on his previous best finish of T23 at his next 3M Open start this week.
Brice Garnett ($6,700)
If you thought Garnett's return to Minnesota wasn't going to get some shine, you've come to the wrong website.
The Big Ticket (which is what we are calling Brice Garnett this week) loves Minnesota! He's finished inside the Top 30 every year the 3M Open has been contested (twice), a feat that only Matthew Wolff, Charles Howell III, and Tony Finau lay claim to as well. Encouragingly, Garnett has gotten it done here with his Ball Striking to mask a lukewarm putter, which is the antithesis of his game historically, leaving room for positive regression if the putter does decide to cooperate. Looking at total history at the 3M Open, The Big Ticket ranks #6 T2G, #13 BS, #14 OTT, and #20 APP.
Garnett has 3 T10 finishes in 2021 and they've each come at fairly easy scoring events, including the Puerto Rico Open, Corales, and Travelers. The Travelers result was skewed heavily by the 13.9 (!) strokes Garnett gained putting, but we do at least know for certain that his flat stick has the ability to ignite, so on a birdie fest course that can very well turn into a putting contest, my interest in piqued.
Garnett gained a full stroke more T2G than Michael Thompson at the 2020 3M Open, so if he can repeat that T2G performance from 2020 to combine with the putting display from The Travelers, he'll win this event by a modest 10 strokes. Hey, anything is possible!
Satoshi Kodaira ($6,500)
By now it should not be a revelation to anyone that Satoshi Kodaira is playing a great stretch of golf, but Draft Kings has apparently still not gotten that memo, as his price has never wavered from the mid-$6K range despite having four T20 finishes over his last 7 starts. Kodaira's game as an approach specialist who can get a hot putter is exactly the formula you want from a player in the value range, and his ranks of 32nd SG: BS and 10th SG: P over the last 24 rounds jump out compared to the other options available at this price.
While not a long hitter, Kodaira has made up for it with his accuracy off the tee, ranking 13th in Fairways Gained and 23rd in Good Drives Gained. On a course with water hazards lurking on most holes and fairly straightforward approach shots awaiting from the fairway, that should set him up well once again coming in to TPC Twin Cities.
If you don't want to stomach a $6,500 Satoshi Kodaira in your classic slate lineup, he also sets up great for a Thursday-only play, whether it be a FRL, Showdown, or on Jock MKT instead; he's currently carrying a streak of 7 consecutive first rounds in the 60s. That's almost a Sebastian Munoz level of Thursday prominence!
Betting Bombs
Charl Schwartzel (+7000)
I have a developing theory that Louis Oosthuizen will not be allowed by the Golf Gods to win another tournament until every other professional South African picks up a win first. Since Louis' last win on the Euro Tour in 2019, Garrick Higgo, Dean Burmester, Branden Grace, Dylan Frittelli, Erik van Rooyen, Christiaan Bezuidenhout, Daniel Von Tonder, Brandon Stone, George Coetzee, Justin Harding, and Wilco Nienaber have each won professional golf events. Every single competent South African golfer in the worst has claimed victory since Louis' last vwin…except one. So now it's time to put the Oosty voodoo hex to the test if Charl Schwartzel can complete the prophecy this week win a win of his own.
With so little historical event data to look back on, it's hard to come across many players (let alone bombs) who fit the profile of someone who stacks up to play well here, and has actually delivered on those results at the 3M. Schwartzel, who finished T3 in his only 3M Open appearance in 2020, is a pure Ball Striker (14th SG: BS L24) who has the ability to get a hot putter on Bent grass greens. In 2020, he gained 4 strokes putting at the 3M Open despite entering that week with a colder putter than he has now. Charl has gained strokes putting in 2 of his last 3 events on Bent grass, including the Byron Nelson where he gained 2.7 strokes putting en route to a T3 finish on another TPC birdie fest track.
The first two 3M Open winners have needed to gain 7+ strokes on approach to do so. With Schwartzel gaining 6+ strokes on approach in 2 of his last 6 starts at the Wells Fargo (T14) and Byron Nelson (T3), it's encouraging to see that he has a conceivable path to get to that magic number as well. Charl comes into this week in great form with just 1 MC and 6 T26 finishes over his last 8 starts dating back to The Masters, so expect him to continue the good form again this week in the Twin Cities.
Troy Merritt (+10000)
One of the main reasons I got myself onto Troy Merritt at the Rocket Mortgage Classic was due to his past success at the 3M Open, which stacked up as a great comp course for what the track demands, as well as the overlapping crop of players who'd previously found themselves atop both leaderboards historically. Fast forward to today, and Merritt's resume now includes 3 T10 finishes since 2019 between the 3M Open and Rocket Mortgage Classic. In addition to checking the Course History and Comp Course History boxes, Merritt continues to stay in form with 4 T10 finishes over his last 10 starts, which have come at the Rocket Mortgage, Charles Schwab, Byron Nelson, and Valspar. While Merritt is more of a short game specialist than the typical ball striker you'd ideally want to target here, it's hard to ignore the prominence Merritt has had on the greens lately, having lost strokes putting just once over those last 8 starts and gained 6+ strokes putting on 3 different occasions over that span. Weighting putting between SG: P – TOT (#2), SG: P – Bent (#7), and SG: P – 3M (#17), Merritt edges out Louis Oosthuizen as the #1 putter in this field, an encouraging sign for a 100/1 player in a putting contest.
Beyond the putting prowess, Merritt also ranks out well in Birdies or Better Gained (#7), Fairways Gained (#27), Par 4 Scoring (#14), and SG: TOT – Easy Conditions (#16). This will be a homecoming for Merritt who spent his high school days in Minnesota. He finished T7 in 2019 when playing in front of his hometown friends and family and then went on to miss the cut when fans were not allowed in attendance in 2020. With the home crowd back in full swing here in 2021, I expect a result more in line with what we saw in 2019.
KH Lee (+20000)
There is a simple flowchart we all need to follow when deciding whether or not to play KH Lee. Are we on a TPC Course? If yes, we play KH Lee, if not, we fade KH Lee. There is a secondary law which requires you to play KH Lee on Tom Weiskopf designed tracks, but that isn't applicable this week.
Lee has gone 6/6 making the cut on TPC courses this season, including a win at TPC Craig Ranch, a T2 at TPC Scottsdale, and a T23 at TPC San Antonio. Not all TPC courses are exactly the same, but what they do share in common is a fan-oriented stadium set up that creates a slew of birdie opportunities and risk/reward holes.
As his price suggests, his game is not trending in the direction you'd want it to for the categories we're looking to hone in on of SG: APP (95th) and SG: P (112th), but he does join Pat Perez's company as one of few players to rank inside the Top 30 in P4 350-400 and P5 550-600. Add in the #Perspective as a new father, and there's plenty of reason to hop on board the KH Lee train once again as a 200/1 bomb.