It's time to turn the page from #BirdieFestSZN to #NoCutEventSZN. After a seemingly never ending stretch of unimposing tests from the Rocket Mortgage, John Deere Classic, (arguably) The Open, Barbasol, The 3M Open, and the Olympics, we can finally uncheck the "SG: TOT – Easy Scoring Conditions" box in our models for the WGC-FedEx St Jude Invitational, which will draw single digits under par from a majority of the 66-man field this week. Including the Olympics last week, 4 of the final 6 events of the season through the TOUR Championship on Labor Day Weekend will be high stakes, no cut events (as Xander Schauffele wipes the drool off his chin), so we will start to see the world's best dial it in as the 2021 season starts to come to a close.
The last 9 winners of WGC Stroke Play events have been Major champions and 24 of the last 26 WGC Stroke play events have been won by Major champions (the two exceptions over that span were Xander Schauffele and Russell Knox). Every WGC has a $10.5M purse on the line, just a hair less than the Majors, so although "WGC Champion" doesn't carry the same esteem as "Major Champion", these events always have the full attention of every top player in the world.
All the top names will be here to tee it up at TPC Southwind, including Jordan Spieth, Collin Morikawa, Brooks Koepka, Bryson DeChambeau, Justin Thomas, and Dustin Johnson. The only notable elite talent absent from the field this week is Jon Rahm, who continues to recover from the positive COVID test which kept him out of the Olympics. Although the field is tight, the volume of elite players this week should still produce more appealing odds than what we saw the Olympics open at last week.
TPC Southwind is short in terms of scorecard yardage sitting just a hair over 7,200 yards, however as a Par 70 with just 2 Par 5s, scoring opportunities are limited, and many long Par 3s and Par 4s will bring Bogey into play far more often than we've been used to seeing over the last couple weeks. With that said, it's going to be a week to put a premium on Approach/Ball Striking as per usual, as well as Par 4 Scoring, SG:SG, SG: P (Bermuda), and TPC Southwind History. Let's dive on in to everything else you need to know about this week's festivities.
TPC Southwind Course Specs
Yards: 7,244
Par: 70 (4x 3's / 12x 4's / 2x 5's)
Grass: Bermuda Greens, Zoysia Fairways
Architect: Ron Pritchard
Comp Courses: Pebble Beach, Innisbrook Resort (Copperhead), TPC Sawgrass, Sea Island GC (Plantation), Memorial Park
Past WGC-FedEx St Jude Winners: Justin Thomas (20), Brooks Koepka (19)
Past St Jude Classic Winners in the Field: Dustin Johnson (18, 12), Daniel Berger (17, 16), Harris English (13), Lee Westwood (10)
This week brings us the rare instance on Tour where "Course History" and "Event History" are both the same, and different. The FedEx St. Jude Classic was a mainstay on the PGA Tour at TPC Southwind for 29 years from 1989 through 2018. During that time, this event (the WGC Invitational) took place in Akron, Ohio at Firestone CC and went by the WGC-NEC Invitational and later the WGC-Bridgestone Invitational. Bridgestone opted out of their sponsorship after 2018, so starting in 2019, the FedEx St. Jude Classic and WGC Invitational merged into one event: The WGC-FedEx St Jude Invitational. TPC Southwind and and Firestone CC are very different courses, so even though Justin Thomas won at both within the last 3 years, it will be best to look at total Course History at TPC Southwind between the WGC-FedEx St Jude Invitational and FedEx St Jude Classic to project success here in 2021.
Looking at TPC Southwind Course Horses, Dustin Johnson, Brooks Koepka, Daniel Berger, Phil Mickelson, Billy Horschel, Matthew Fitzpatrick, Webb Simpson, Harris English, Justin Thomas, and Rory McIlroy round out the Top 10 in terms of SG: TOT. The Top 3 of Dustin Johnson, Brooks Koepka, and Daniel Berger belong in their own elite category at TPC Southwind with 5 wins between them within the last 10 years. In the two years TPC Southwind has hosted this WGC event, Brooks Koepka has finished 1st & T2. Koepka's win in 2019 came one week after his T4 finish at The Open at Royal Portrush; it's a different jet lag situation than what several players in this field will face returning from Tokyo, but it's a good enough indicator for me to not purely fade the players returning from the Olympics like I had when they were traveling there from Minnesota. Beyond Koepka, Justin Thomas, Webb Simpson, and Matthew Fitzpatrick have finished T12-or-better in each of the first two WGC FedEx St Jude events. Daniel Berger, Shane Lowry, and Aaron Rai each have a T12-or-better finish in their only prior WGC FedEx St Jude appearance.
Par 70 courses tend to put more of an emphasis on Par 4 Scoring , usually replacing two Par 5s with two long Par 4s, and that's no different at TPC Southwind. Par 4: 450-500 is a crucial stat this week with 7-8 holes funneling into this range. The course also yields 67% of approaches in the 125-200 yard range compared to the Tour average of 54%. That means much less of an emphasis on short wedges like we tend to see on typical TPC Birdie Fests, and instead an emphasis on in-between mid-irons. Modeling Proximity across the 125-200 ranges, Collin Morikawa is unsurprisingly at the top, with Paul Casey, Tony Finau, Hideki Matsuyama, Kevin Na, Daniel Berger, Joaquin Niemann, Viktor Hovland, Stewart Cink, and Abraham Ancer rounding out the Top 10 over the last 36 rounds from that range. The Top 10 players in Par 4: 450-500 are Collin Morikawa, Louis Oosthuizen, Wilco Nienaber, Abraham Ancer, Rory McIlroy, Patrick Cantlay, Justin Thomas, Jordan Spieth, Carlos Ortiz, and Corey Conners.
Given the amount of history year over year at TPC Southwind, it's less pertinent to look into success at other comp courses than it has been in recent weeks. With that said, it's important to note that this course will play much differently than the TPC Birdie Fests like TPC Twin Cites, TPC Deere Run, and TPC Craig Ranch we've seen in recent weeks. I keep going back to Pebble Beach as a solid comp course, given they are each relatively short courses with wind and water in play, yield a similar range of scoring, and have bred consistently strong performances from Daniel Berger, Phil Mickelson, Dustin Johnson, and Brooks Koepka. Innisbrook, Sea Island, TPC Sawgrass, and Memorial Park are also courses of a similar distance that put an emphasis on Hitting Fairways, Approach, and Short Game. The Top 10 players SG: TOT over the last 3 seasons across these comp courses includes Brooks Koepka, Justin Thomas, Daniel Berger, Brian Harman, Louis Oosthuizen, Abraham Ancer, Webb Simpson, Hideki Matsuyama, Dustin Johnson, and Justin Rose.
Key Stats
SG: APP / SG: BS

GIRs Gained
Fairways Gained
Par 4 Scoring / P4: 450-500
Prox 125-200
Bogey Avoidance / Double Bogey Avoidance
SG:SG /

SG: Putting (Bermuda)

Course History
Stats To Avoid
Prox <125

/ Prox 200+
Par 3 Scoring
Par 5 Scoring
This week, I think it's going to be most important to find fairways consistently, while also possessing the distance to take advantage of scoring on longer holes, whether it be Par 4: 450-500 or Proximity 125-200. There are just 4 players who rank above average in this field in those three facets: Collin Morikawa, Louis Oosthuizen, Shane Lowry, and Hideki Matsuyama.
Looking at the correlation charts this week for TPC Southwind, Double Bogey Avoidance noticeably jumps into the Top 10 most important stats for this event, with over 5% of the field making Double-or-worse on 3 different holes. That importance on avoiding crooked numbers will give me pause to back players like Viktor Hovland and Matthew Wolff, who are always liable for the occasional blow up.
We also see a larger than usual jump in the importance of SG: APP and SG: SG this week compared to Tour Average, with each of these categories entering the Top 10. On the flipside, Par 5 Scoring, Par 3 Scoring, and SG: OTT will be stats to deprioritize this week, as they have proven to be far less consequential here than on Tour average.
Taking the Top 10 Correlated Stat categories for this week at the WGC-FedEx St Jude, there are 6 players who rate out above average in all ten: Brooks Koepka, Jordan Spieth, Louis Oosthuizen, Abraham Ancer, Harris English, and Scottie Scheffler.
Spotlight: Phil Mickelson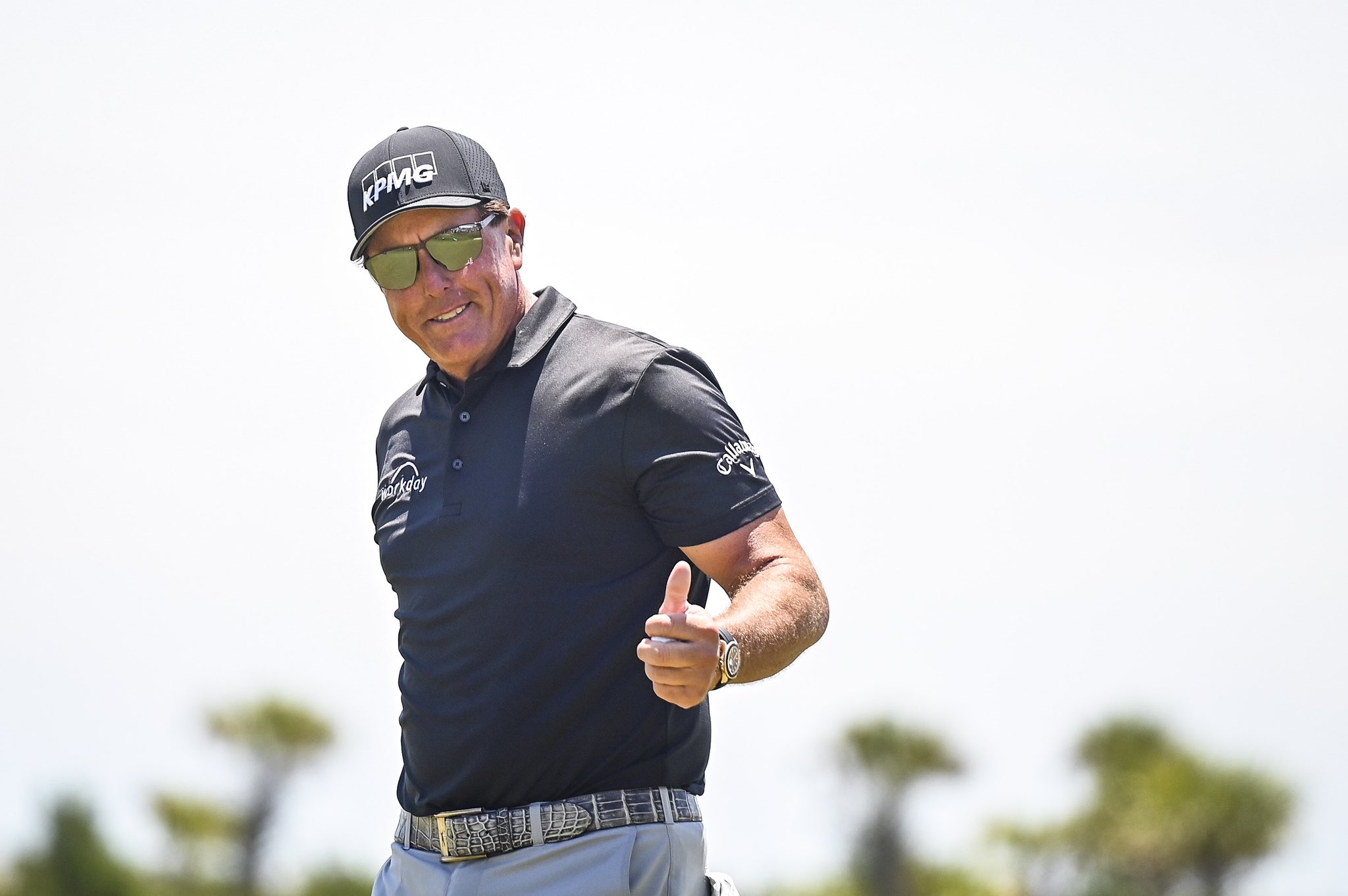 It's always tough to find value on the betting board to get excited about at a WGC, as the limited 66-man field typically slashes outright odds to half of what we're used to seeing in full fields. With that said, Phil has done everything he can over his last 5 starts to keep his number bettable. Since winning the PGA Championship, Phil has followed that up with the following results: MC, T62, T61, T74, MC. But be that as it may, Phil has always found himself in contention when making the trip to Memphis.
I'm going out on a limb to say that in an event such as this that carries a convoluted and fragmented past of Course History and Event History, Phil's continued success at TPC Southwind will likely go overlooked by oddsmakers who fixate on the poor recent form. The fact that he has never won at TPC Southwind should also keep his odds from inflating as high as they should. But just like Bubba Watson who has 5 career T5s at the Waste Management without a win, it is possible for Phil to fly under the radar as a TPC Southwind Course Horse without a title of his own. Over the last 8 years, Mickelson has 3 runner ups and 7 finishes of T12 or better, including a Runner Up finish in his latest appearance in 2020. Phil has gained strokes putting 8 out of 8 times here over that span, and has gained 4+ strokes T2G 6 out of 8 times, which presents plenty of upside for a high floor, even despite what the recent results have shown.
In this later stage of Phil's career, he's continually cited the inability to keep his focus for 4 days as the barrier to more consistent success. He was able to stay focused at the PGA Championship, but I'm willing to give a pass that the media obligations as a standing 2021 Major Champion going into the The Open and The US Open caused distraction, and he simply did not care enough at the Charles Schwab, Rocket Mortgage, and Travelers to keep his focus there either. At the WGC-FedEx St Jude however, it's not a Major, nor is it an event he needs to field press at as a former champion, so I expect him to fly under the radar as he dials in at a high purse event that's just barely eluded him over the course of his career.
Despite the recent troubles, Phil is still one of only 4 players in the field this week to rank Top 30 in both Driving Distance and Driving Accuracy, so if he can continue to find these elusive fairways, his distance should help him create scoring opportunities on longer holes. If the T2G game materializes for 4 days, Phil should be able to lean on his #1 SG: P – TPC Southwind rank in this field to make yet another push for his first career FedEx St Jude win.
What To Look Out For at the 2021 WGC-FedEx St Jude Invitational
With many of the top players in this field returning back from the Tokyo Olympics to Memphis, we'll have to once again decide how much we need to handicap jetlag. For me personally, I won't be factoring it in very much at all this week, with players gaining some time back on the return travel. Xander will have an opportunity to repeat in back to back no cut events if he can overcome the Gold Medal hangover (if that's a thing?). A downtrodden Sungjae Im and Si Woo Kim also return to the field in Memphis with immanent Military service now looming, so I don't expect to have much exposure to either of the South Koreans. Collin Morikawa won the last WGC Stroke Play event at The Concession after opening at 46/1, so while we should expect one of the top players to come out on top this week, it's not to say there won't be any value when outright odds are released.
With all the course fit profiles in mind this week, I'm leaning early towards the below player pool, broken out by projected pricing/odds tier.
This week, I'm putting a premium on SG: APP, GIRs Gained, SG: BS, and P4: 450-500, followed by a more balanced mix of Bogey Avoidance, Fairways Gained, Course History, Prox 125-200, SG:SG, and SG: P – Bermuda. Every data point I've looked at points squarely at near-Bronze medalist Collin Morikawa as the man to beat this week. He's #1 in my model, ranking #1 in SG: APP, GIRs Gained, SG: BS, P4: 450-500, and Prox 125-200. The rest of my model actually bears plenty of overlap to the final leaderboard at Royal St. George's, assuming this becomes another competition of hitting fairways and then hitting greens in regulation to win. The rest of the Top 10 reads: Louis Oosthuizen, Abraham Ancer, Daniel Berger, Brooks Koepka, Jordan Spieth, Patrick Cantlay, Xander Schauffele, Shane Lowry, and Justin Thomas.